Interview (1/2) – We call this good fortune. We were amazingly lucky to meet Mike Barson, keyboard player and founding member of the legends Madness, whose hits Our House, One Step Beyond, Night Boat to Cairo and Baggy Trousers have been enchanting French nights for almost 40 years. A band who sees a second youth with their new fantastic album Can't Touch Us Now, released in 2016.
We cut this interview in two parts: in the first one, we talked about music and Madness new album ; in the second part, Mike Barson shared more political opinions, analysis, fears and hopes for our new era.
« We were always trying to play something different. Until it felt like there was nothing left. »
Let's start talking about Madness. Who's the maddest among you?
Mike Barson: Who is the maddest? Hum… Lee Thompson, our saxophone player. He's the maddest, for sure!
You still look very young in the way you play and create music, how have you managed to keep this madness for all this time?
How do I manage to do that… It is so difficult. I suppose it is sort of difficult that you don't get bogged down, that you keep a sort a fresh sort of outlook. It is very interesting. I mean, in the 1980s, we were first successful and every time we were trying to do something different. Different, different, different, different… And at a certain point it felt like there was nothing left. We got to a point where we had sort of done all different musical styles and we didn't want to repeat ourselves. It became a bit of an obsession. And then we got in a place where we were stuck, because we didn't want do what we had done before.
It became a bit of an obstacle. But we realized that was a bit stupid, you know.
« It is somehow about doing something authentic »
It is not about doing a different sort of style of music each time. It is somehow about doing something authentic I think. When you write a song or when you record it, it is just doing it without expectations or without trying to copy somebody. And at the same time, just trying to get a sort of creative thing going on. And if you get a creative process working, then it goes beyond, so it defies those limitations that stop you. Because you think "I can't do that, I can't do that". It is something in people's heads I think. It is a part of life to stay sort of fresh and a bit sort of naïve. Not really naïve, but sort of fresh about life so that you don't have too many expectations and presumptions in your head… Because then you get rusty and old.
Is that why you decided to leave the band at some point?
I think we got to a point where we got a lot of expectations and it was getting very difficult to move. Anyway I found it difficult yeah, that is why I left the band. I cannot really speak for the rest but I have the feeling that it was a little bit what happened. And then we became very unpopular you know. After a while, you can forget all the expectations and everything. Then we sort of came back again and when we came back we did it a little differently. Without too much hope and fear, not willing to be super successful but just doing what we enjoyed most.
If you had to pick 3 of your songs for those who don't know Madness well…
Well I suppose I would select One Step Beyond, especially in France, because it was a big hit over here and that would say something. And I guess Our House was very successful as well. It was the biggest hit we had in America. And the last one… I guess Mr. Apples because it is the new single [laughter]
And what's your favourite Madness song?
It is difficult, we have so many songs! My favourite song at the moment is You Are My Everything, that I wrote for the new album. It sort of changes with time. I like Herbert on the new album as well.
« We went to a very small London studio to record the new Madness album »
Your new album is old school, vintage, you kind of went back to your roots. How was it to record this new Madness album?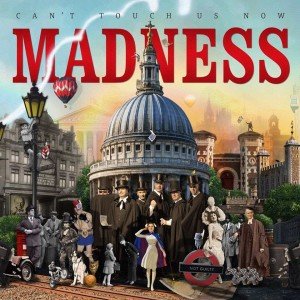 It feels a bit like that. When you listen to it, it is not really the same as when we started at all, it's quite different. But the sort of mentality wad had was the same.
It is very expensive to record an album as well. When you make an album, it costs you a lot of money, and when you see how much money you get back, you know… When we first started, the record industry was quite different. When you made an album you made a lot of money and then you went on tour and you lost money. And now it's the other way around! For us anyway. We don't make a lot of money with record sales because nobody buys records and there is all the streaming and everything's sort of changing. But live… these days, you can earn a lot of money. I don't know exactly how it changed, the why, but it did change. So when we did this album…
Mr. Apples, premier single du dernier opus de Madness Can't Touch Us Now
You know we don't like spending. And also, when you are spending a real lot of money when you are recording, it sort of limits you. Once in the past, we spent like £150,000 making a record and then somebody said "I want to put a broad section on this track" and the producer said "we got no money left, we can't do it". And then you get this sort of fighting at the end when you can't really be creative. So this time, we went in a very small little rehearsal studio which was €20 a day and we just hired the equipment in there. And we had a great time, because there was no expectations. We were not spending loads and loads of money. You know, we'd spent a month in there, the "it's better to start recording" moment did not came too early, so it really relaxed the atmosphere. And it sort of helped, I think. Everybody could sort of get home with what we were doing. Then we went to the studio and it was not so expensive.
We went to small studio in London called Toe Rag Studio. It is an analogue studio, partly because I like old analogue records. Records from the Sixties, I think they have the best sort of sounds. Maybe the Seventies as well. Anyway, those recordings were fantastic. The techniques that they developed in those days… Now you have computers, you can do so much with computers. But somehow, it is sort of different.
For me it sounds much better than what you get these days, even though we sort of have so much control now. So we went back in a small little studio, using only a 8 track tape recorder, which is an old Studebaker I think. The sound you get is just great and we liked it so much. So we went back there and we started with just 8 tracks. But when you get 8 tracks that sound really good it is really inspiring and it sort of moves you on.
So we started with the very basic thing with 8 tracks and then we finished it with the computers with a guy called Charlie Andrews. He is the producer of the latest stuffs. The computer is endless, you can do as many takes as you want, you know… But we got a basic sound from this analogue studio.
« We are still quite democratic in Madness »
About these 8 tracks, how did you split the job among you to write them?
We are still quite democratic in the band. So we go to the rehearsal. And he's got a song, he's also got a song, and he's got a song, he's got a song… And you go around like that. One, one, one, one… And some people try to push into some songs so you get a bit of tension. But generally we proceed like that.
There are a couple of songs that we added to Can't Touch Us Now at the end. You Are My Everything and When I'm With You…
Generally we do it sort of democratically. It is a bit of both really. And when we had enough songs, I didn't want to do it anymore and I said "I've had enough, I don't wanna do anymore". Because some people like to write hundreds of songs and some people just write not so many. It is good to get a balance I think. And all the songs came up pretty good. It's not like somebody's really terrible at writing songs.
And also, it is interesting when the band adds something to your song. In the past, Woody (Dan Woodgate) never used to write songs, he is the drummer. But sometimes in sort of charity we said, "why don't you write a song?" We told him to write a few chords on a bit of paper and we made a song out of it. Nothing's impossible. Because the band was able to make it sound interesting.
So… Madness does not go to studio with finished versions but just ideas?
No, we start in the rehearsal room. We don't go to the studio until we have got the songs to a certain degree. When you are in the rehearsal room and you are working on songs, you get to a certain degree. But when you actually play in front of an audience, it is quite different. We didn't do too much of that, but that is the best way to do it, even if it is sort of difficult. When you play live, it takes you a step further as well. Somehow, when you make an album, then you go on the road with it, and you think "aaah it could've been this, could've been this", then you can make it better.
«It gets boring whatever you do for a long time»
Speaking of which, do you prefer live or studio?
I don't know, both really. It's nice to do both. It gets a bit boring whatever you do for a long time. If you are just playing live, it gets a bit boring. And then it is great to go to the studio. It is like the weather you know: you have spring, summer… It is nice to change always things.  I enjoy studio for sure. But you know… It is different.
What is your favourite album of The Beatles and why?
What is the one with Norwegian Wood on it. You know the album with Norwegian Wood? [Singing] "I once had a girl…" I cannot remember the name, but that one is the best I think… Rubber Soul, yeah! And Revolver was pretty good as well, but I'll go with Rubber Soul! Great songs and great recording. The whole album I really liked it. All the tracks are really good, but they're not overly well known either.
What is your latest crush in British music, a new band to discover?
Hum… I am a bit of an old folk you know. I don't listen to the radio much, I listen to old music, just the music I liked when I was young, really. It is really not worth mentioning [laughter]. Well, let's talk about old Sixties music. I liked old Tamla Motown as well from the Seventies. Robert Wyatt I liked as well, Soft Machine, if you heard of them… You know them? Their album Third is great. Moon in June is a great track. I listened to it when I was a kid so… Yes, it is the music I liked when I was young.
Thank you very much for the time you gave this interview
Alright!
Following part of the interview of Mike Barson from Madness (on more general and political subjects) coming soon